Aluminum foil is widely used in our daily life, food flexibly packaging, construction, machines, shipping, Aerospace and so on.
Today I would like to introduce a new concept application of the aluminum foil, it also can be used in the clothes designing. Yes, that is not a joke. It is the truth.
The photo attached is the original designer of the aluminum dress. She is Ayşe Byzanz, a German designer, who wore the aluminum dress in the exhibition when I met her in the exhibition and she attracted so many visitors' attentions… It is amazing! Very beautiful! It is incredible!
A new concept, very good idea ! Do you think so? As we known, the material of clothes can be cotton, polyester, silk, cloth, linen and son on, even if the newspaper. But the aluminum for the clothes, it is the first time! Why not?
I chatted with Ayşe Byzanz. She said she was invited to take part in this big Aluminum Exhibition in Shanghai. She is very happy. She will make a combination with her exclusive fashion label: AYSE BYZANA on the aluminum dresses.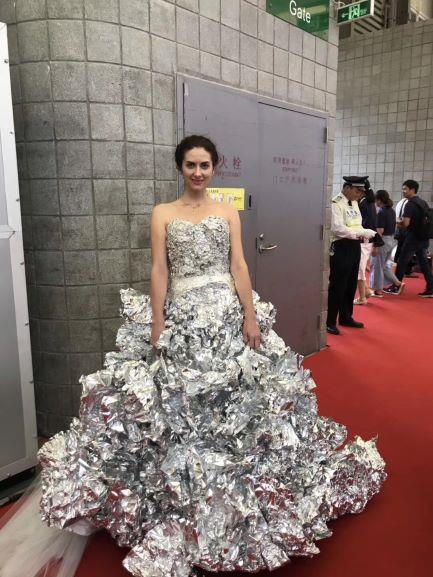 She will have a red-carpet show in China in October of 2019.
We will see many new discoveries about her aluminum dresses.
We are looking forward to seeing them!