The main purpose of the aluminium checker plate 6mm is anti-skid, but considering its thickness, it has an extra function - bearing load. A mill finish aluminium roll goes through an embossing machine, during which its surface gets pressed and rolled with various patterns. The raised patterns play a good anti-slip effect, so checkered aluminium sheets are mainly used in various places where slip resistance is required. In the oxidizing aqueous solution, the checkered aluminum plate is prone to produce a dense aluminum oxide passivation film on the surface. Because of its very good corrosion resistance, even in the high temperature concentrated nitric acid, the patterned aluminum plate corrosion resistance is also better than stainless steel.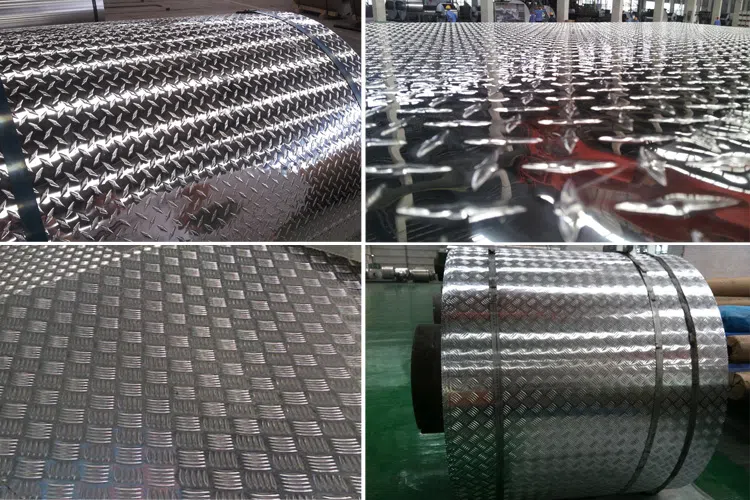 An aluminium checker plate 6mm can first have 3003 as the primary material. This kind of aluminum plate is also called anti-rust aluminum plate. Its strength is slightly higher than that of ordinary aluminum alloy patterned plates. It has certain anti-rust function, but the hardness and corrosion resistance cannot reach 5000 series of patterned plates. Therefore, the product is used in non-strict anti-rust aspects, such as truck models and cold storage floors. If you need stronger corrosion resistance and hardness, there are 5052 and 5083. 5000 aluminum checker plates are usually used in special places, such as ships, compartment lights, humid environment etc. They are featured by high hardness and a certain load-bearing capacity.
Henry aluminium checker plates have the following advantages. First, the surface is smoother, not easy to pollute, easy to clean, with better adhesion, wear resistance and small film thickness error. Second, we accept customization and guarantee smooth surface without burr, longer service life. Third, according to the requirements of customers, we can provide you with reference solutions.